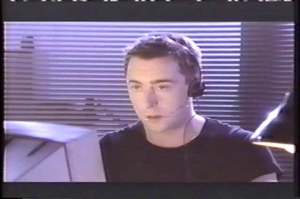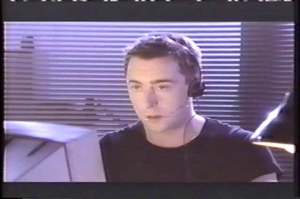 Burn Your Phone was originally a radio play, written by Andrew Wallace, which I did for the BBC. I thought it would make a really gripping film, and as I was looking for something else to direct after Butter, I asked my friend and producer Dixie Linder to help me get it made. And so, in a relatively short time we were shooting it for BBC 2's Screen Two strand at Elstree Studios. It only took two days to shoot, because basically it's just me on the phone to lots of unseen people, but it was quite an intricate process getting the actors in an adjoining studio piped through to the earpiece in my ear and acting with them as well as concentrating on how to make the thing visually interesting when it was just my face for half an hour.
I think this was the first time that I realized that I liked directing myself because it really freed up my acting. As a director you have so many things to think about on a set that when it came down to the actual acting I felt really relaxed and free and I think my performance is better as a result. Also, as a director I am way, way more prepared than I ever am as an actor so I think that amount of preparation and thought for the other aspects of the film helps my acting too.
Burn Your Phone is about Andy, a telephone operator, who, during a normal day of answering calls begins to hear from someone who knows things that only Andy himself could know and eventually begins to threaten Andy's life.
The film was broadcast on New year's Eve 1996, and on that night as I was boarding a flight back to London from Prague (I had been filming For My Baby in Budapest) I walked on the plane to see about a hundred pictures of my face staring back at me from the TV listings on the back page of the complimentary newspapers that the passengers had all been given. It was rather alarming until I realized what was going on