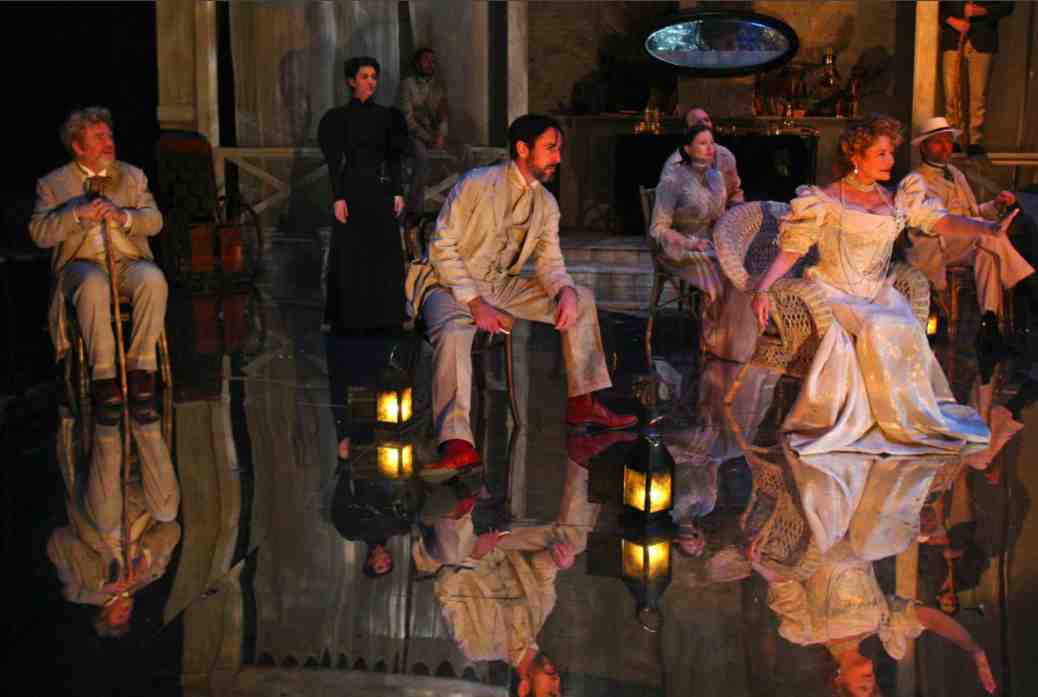 I love Chekhov, but this was the first time I had ever done any of his plays. However I thought of The Seagull often, and had even toyed with the idea of making a film of it set in a country estate in Scotland. I always thought that the Scottish temperament would be a good fit with the Russian one, and also we really understand what it feels like to be isolated in the sticks, longing to get away to the big city.
So I was thrilled to be asked to play Trigorin opposite Dianne Wiest's Arkadina for the Classic Stage Company in New York City. Dianne is a brilliant actor and my first meeting with her showed me what an amazing person she is too. At our next meeting I met the director, Viacheslav Dolgachev, formerly of the Moscow Arts Theatre and I knew that this was going to be an extraordinary experience.
The thing I have always felt about Chekhov is that everyone is a drama queen. Really. Every singly character moans, complains, is self-absorbed and selfish. And I think that in the UK and the US we get Chekhov wrong, and make all the characters very tortured and internal, thereby losing any hope of making them the comedies they are supposed to be. So I was really interested to work with a real live Russian, as well as a Chekhov expert, to get a chance to experience how Russians actually go about doing it themselves.
It was fascinating. First of all Slava asked us all to be bold in our interpretations but at the same time was incredibly detailed in his direction, down to the tiniest movement sometimes. Best of all was having several Russians in the room (interpreters mostly), and feeling the Russian temperament close at hand. There was no leap necessary to see how these characters operate when you watched and listened to the dramas and elaborate stories and the sheer volume going on in that room!
For me it finally made sense, and although the production had some problems, it certainly made people sit up and notice.
Here's a little interview I did for the NY Observer about the play..
Alan Cumming was excited to play a "real man" in the Classic Stage Company's production of Chekov's The Seagull. Mr. Cumming, the Tony Award-winning Scot with saucer-size blue eyes and a sly grin, recently played Dorothy's scarecrow Glitch in the TV miniseries Tin Manand, um, a spacey scientist called Fegan Floop in thoseSpy Kids movies. (He also had a delightfully sleazy role as a gay nightlife impresario on The L Word.) But in The Seagull, he appears as Trigorin, a broody famous writer who woos Dianne Wiest's character Arkadina and seduces a budding actress (played by Kelli Garner). "He just seems like a real man," Mr. Cumming said over the phone, walking to Prana Power Yoga for his regular stretch after a recent play rehearsal. "He's got everything, but he wants to destroy it. I've never played anyone like him."
Mr. Cumming decided to take the part last year when the writers' strike loomed and his agent was pushing him to sign movie projects. "All the films I was looking at, I was like, iiillck," he said. Plus, Mr. Cumming, 43, had longed to appear in Chekov's study of impossible love and creative torture—though he hoped to play the much younger, avant-garde playwright Konstantin (that role went, appropriately, to Ryan O'Nan). "The years have gone by and I missed my chance," sighed Mr. Cumming.
B&w photo by Yelena Yemchuk for The New Yorker, others by Joan Marcus.